TSR_TP_popup.js v0.4.3
A downloadable asset pack
This is a Java Script Plugin made for RPG Maker MV.
It is quite functional, but still in development and require more testing.
Since it needs to be tested against various situations and game mechanics, I would like some peoples to start using it and report how it goes. Thank you for helping me making it better!
===========================================================

FEATURES:
Add popups to show TP gain and loss (works with OR without Yanfly BEC)
Add 3 TP damage Types (TP damage, TP recover and TP drain) to skills and items through the use of Notetags.
Provide MP Notetags too so that damage types can be combined.
Add various visual effects to Battle popups with the use of an alternate Damage sprite sheet.
'TSR_Damage.png', an alternate Damage sprite sheet provided by this Plugin: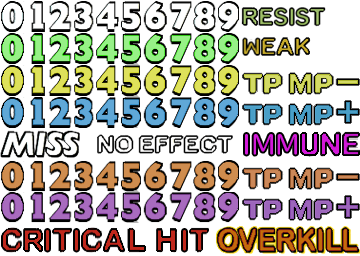 Along with the Plugin file, you can download this alternate Damage sprite sheet. It is used by the Plugin to add visual features to Battle popups. There is parameters to Enable/Disable each of them, but you can also Enable/Disable the use of the whole alternate sprite sheet by the Plugin via a single parameter.

*Please refer to the Plugin instructions for further details
BETA version works in progress:
I would appreciate if some people could test the Plugin in their game project and report bugs and inconsistancy. Comments and suggestions are also welcome!
A fair amount of effort have been put in place to make this Plugin works in synergy with YEP_BattleEngineCore AND as a stand alone Plugin. It is almost impossible to test every possibilities in every situations, so there might be some aspect that was overlooked. Thanks for sharing your own experience with the Plugin.

===========================================================
ToU:
Free to use in any RPG Maker MV projects, including commercials.
Credit is required for using this Plugin.
Credit to 'TSR' followed by either 'The Northern Frog' or 'A frog from the north'
Editing of the file is permited but credit would still be required.
DO NOT REDISTRIBUTE! If you want to share it, share the link to this page.

If you edited the plugin and would like to distribute it, contact me.
This plugin was made for free use among the RMMV game dev community. Hence, it is free and will remain free.
===========================================================
Enjoy!
TSR, The Northern Frog

Download
Click download now to get access to the following files: