TSR_FootSteps
A downloadable asset pack
This is a javascript Plugin made for RPG Maker MZ or MV.
This Plugin add foot step prints under player, followers and events. It use Map Notetags to assign Map Regions IDs or Terrain Tag on which the characters will print steps. There is also Actors Notetags and Events Comment Tags to assign specific foot step prints and sounds to some characters.

The Plugin require the sprite sheet 'FootSteps.png' that must be imported in the /img/system folder of your game. You can download it along with the Plugin file, and edit it to your liking.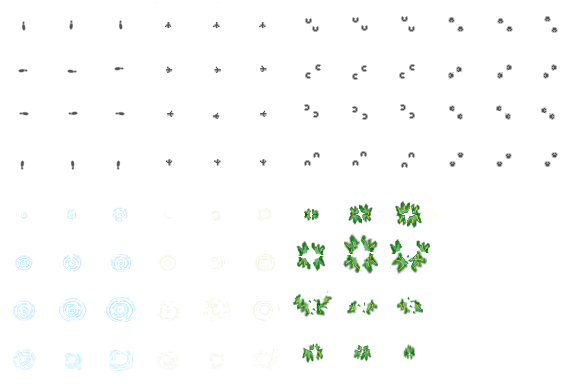 ===========================================================
ToU:
Use in any independant RPG Maker MZ or MV projects, including commercials.
Credit is required for using this Plugin. For crediting, use 'TSR' along with one of the following terms: 'The Northern Frog' or 'A frog from the north'
Do not change the Header or the Terms of usage.

SPRITE SHEET
The FootSteps.png sprite sheet is free to download on my itchi.io account. Editing it to your liking is permited and no credit is asked for using it. But it shouldn't be used in games that don't use this plugin, nor in a game not made with RPG Maker MZ or MV.
DO NOT REDISTRIBUTE! If you want to share it, share the link to my itch.io account: https://the-northern-frog.itch.io/
Sending me a copy of your completed game using my plugin would be appreciated, but there's no obligation.
===========================================================
Enjoy!
TSR, The Northern Frog

For support, join us on Discord


Purchase
In order to download this asset pack you must purchase it at or above the minimum price of $4 USD. You will get access to the following files:
Comments
Log in with itch.io to leave a comment.
hi frog, can we not use the region? can we use the tile tags?
Hello, only region id. But, why would you favor tag over regions?
because I want to set regionID for other purpose , I cannot set the whole grass/snow/water area to a regionID only for the footstep purpose.
Can you take a look at MOG_footstep.js code and set the footstep by tile tag?
I don't need to 'look' at anyone code to do that. It's just that I don't see the use for it.

You don't have to set a whole area with a region, but with multiple region ids. This is actually very versatil and won't interfere with other uses of the same region ids.

Like, if you have a snow area where you use regions 1, 2 and 3 for whatever purpose; just set those regions in the footstep map notetag, and cover the remaining snow tiles that aren't region 1, 2 or 3 to region 4 (which you add to the notetag too).

That said, I can easily add a parameter to choose between region or tag. But that will have to wait a bit cause I won't have access to my computer for a couple days.
ok ok , i can wait for it!!
Can you reply this when you done? I will try it out as soon as I can!
easy to install, works almost instantly with little setup process. 5/5